Dr. Hal Bradford, MD, FACOG, a native of Pine Bluff, Arkansas, is a Phi Beta Kappa graduate of the University of Arkansas in Fayetteville and attended the University of Arkansas for Medical Sciences in Little Rock, Arkansas, where he received his medical degree in 1990. After completing his residency at the University of Mississippi Medical Center in Jackson, Mississippi, he returned to Fayetteville and was a partner with the Northwest Arkansas Clinic for Women for 15 years. The clinic was affiliated with Washington Regional Medical System until 2008.

In August of 2008, Dr. Bradford reentered private practice establishing Accent Women's Health. He now exclusively provides health care for women. He is a diplomat of the American Board of Obstetrics and Gynecology and a member of the American College of Obstetricians and Gynecologists. He is also a member of the Arkansas Medical Society.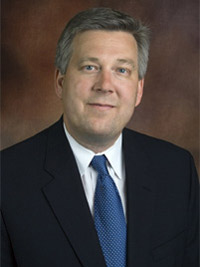 Dr. Bradford currently provides surgical and inpatient care at Washington Regional Medical Center in Fayetteville. He also provides outpatient surgical procedures at the North Hills Surgery Center. Dr. Bradford provides a wide range of services for the female patient. Dr. Bradford provides both major gynecologic surgeries, as well as minimally invasive laparoscopic procedures. His services also include fertility treatments.

Dr. Bradford has served as Chairman of the Department of Surgery at Washington Regional Medical Center as well as a member of the Executive Committee. Dr. Bradford also served as an Associate Professor with the Department of Obstetrics and Gynecology for the University of Arkansas for Medical Sciences and taught resident physicians from 1996 to 2007. Dr. Bradford has published peer reviewed papers in the medical literature on the topic of laparoscopic or minimally invasive surgery.

Dr. Bradford has been married for 35 years to the former Anne Brown of Pine Bluff, Arkansas. They have five children ranging in age from 20 to 33 years old and six grandchildren. Dr. Bradford is an active member of the Church of Jesus Christ of Latter Day Saints and was recently released as President of the Springdale Arkansas Stake which has 10 congregations (and 3,500 members) in Northwest Arkansas. His hobbies include playing the piano, golf, and his children's numerous activities.